VOLUNTEER AT TRIBAL CLASH
TEAMWORK.
COMMITMENT.
ATTENTION TO DETAIL.
SENSE OF HUMOUR.
This is what makes Tribal Clash team the best in the field today. We are proud to work with a world-class team of individuals, many of whom return year after year and who have become part of the Tribal family. They come from all backgrounds but they all share an exceptional ability to make magic happen, in any weather, no matter what happens. Our volunteer crew is what makes Tribal Clash so unique and special.
Each Tribal Clash competition requires the help of 70-80 volunteers, so get involved!
We welcome volunteers from all corners of the world, and will carefully consider every application that we receive. However, if you are looking for your first Tribal Clash volunteering experience you would be required to cover your own travel and accommodation expenses.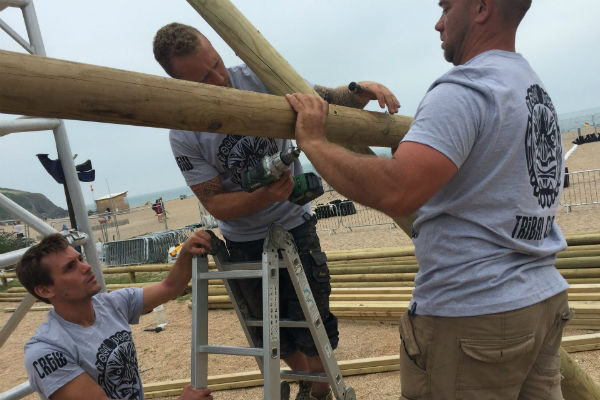 RIGGING
Getting the Tribal Clash beach ready for the competition takes several days. We arrive on site on the Monday before the Tribal Clash weekend, and we work from early in the morning until late at night through the week. Our build team erects the wooden rigs, fills hundreds of sandbags, measures and marks the competition arena, erects fencing, flags and barriers, marks swim and run routes, and ensures all the equipment is where it should be. Our arena requires a team of 8-10 people, a telehandler, and quite an assortment of tools! Our rigging teams also packs down the site on the Monday after the competition, deals with all the waste left behind, breaks down the rigs and the arena and transports all the equipment back to the Tribal Clash compound. During the competition, our rigging team is responsible for moving equipment in between events, and ensuring each event has the correct equipment available.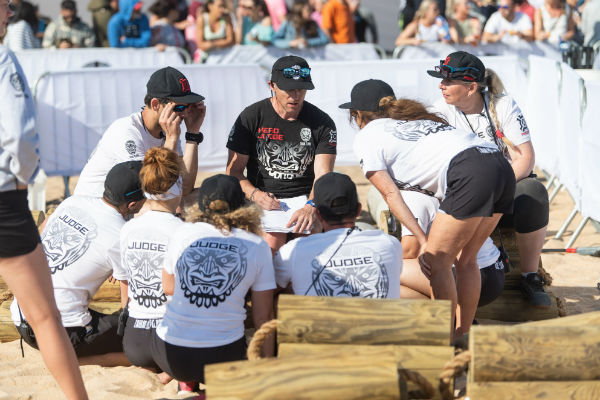 JUDGING
The Tribal Clash judges are at the heart of the competition. They have a crucial role in ensuring that the movement standards are adhered to, and that each team's score accurately reflects the work that they have done. Our judges have an extra challenge that comes with our tactical team programming and equipment; our judges have to watch and assess the reps of the whole team simultaneously. They have to be able to see if the whole team squats below parallel exactly at the same moment, or if synchro burpees touch the target exactly at the same moment. Our judging team have to be on top of their game outdoors in any weather for two days. Typically each lane has two judges, who are also responsible for preparing the lanes for each heat.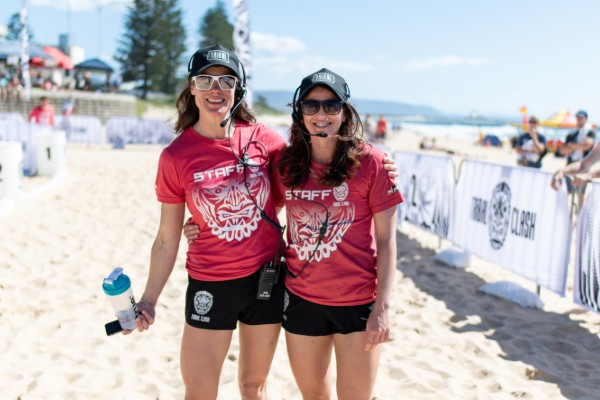 ATHLETE SUPPORT
The famous Tribal Clash Red Shirts. Athlete Support Team looks after all the participants from the moment they arrive on site: They handle team check-in on Friday, distribute camping & spectator wristbands and parking permits, and are on hand to deal with any queries or problems our participants may have when they arrive. During the competition, you will find most of the Athlete Support Team at Athlete Staging, where they brief the competitors on the workouts before they step onto the arena. They ensure that the heat turnaround is swift, and that the competition stays on schedule – no mean feat with 160 teams and several events with multiple heats! During the competition Athlete Support is the first point of contact for the competitors whether it's lost property, a scoring issue or heat timings.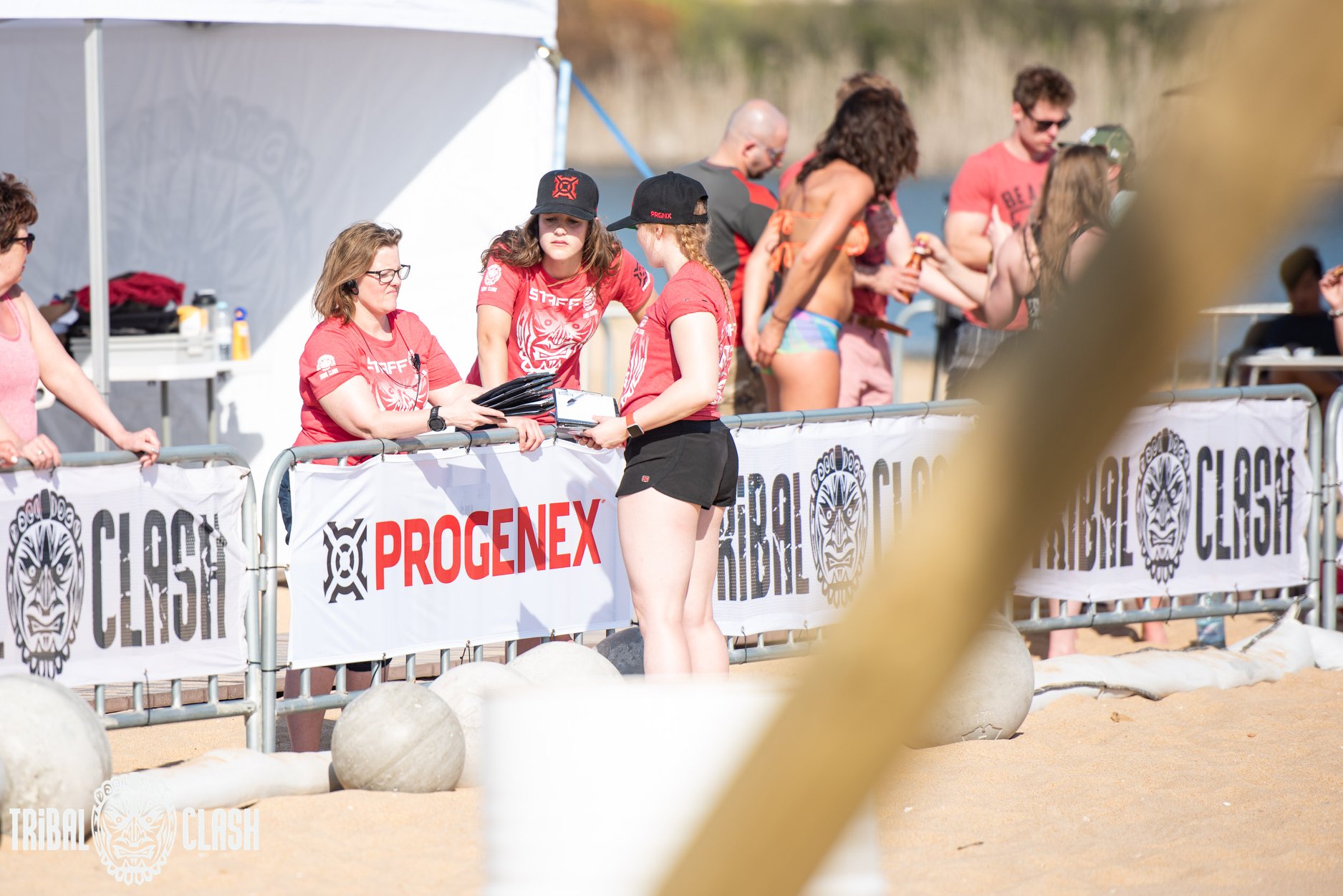 SCORING
Our scoring team is responsible for making sure that the work that the athletes do is showing accurately on the competition leaderboard. This is no easy task: with up to 240 teams in a competition and multiple events running concurrently, loading scoresheets onto our scoring software requires focus and relentless attention to detail. Our scoring team has to deal with not just multiple score sheets but also various other scoring systems: chip timing systems, iPad timing apps, and back up systems in case of technical problems. They work together with Event Director and Head Judge to determine fair and consistent scoring system including any time or rep penalties. The team includes several runners delivering score sheets to and from the arena.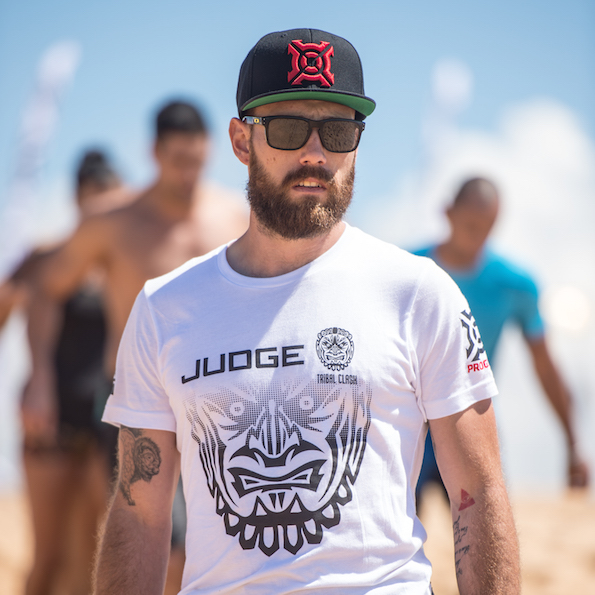 CASE STUDY: CLAUDIO MORAIS (Portugal)
"When I heard that Tribal Clash was coming to Portugal in 2017, I applied to be a volunteer. I am Portuguese and I was a L1 coach at a CrossFit affiliate in the Algarve, so I joined the judging team in the first Tribal Clash Portugal. It was an amazing experience to be part of the crew, so later on that year I was invited to come to the UK. This time I was part of the rigging team in the week before the competition, and then a judge at the weekend.
I have since been part of the crew at every Tribal Clash, travelling to Australia and California, and in November I will be going to South Africa for the first time! Tribal Clash is now like a family to me; I have made so many friends for life and have had the opportunity travel around the world as part of a team. When we are on location, it's hard work and long days outside in the sun. We are looked after really well with good food and a few beers. We stay in cool houses where we get to live like locals for a week. 
After I crewed at Tribal Clash USA I decided to use the opportunity to explore the West Coast, so I extended my stay and got to see Yosemite, Las Vegas and LA. 
WHAT OUR STAFF SAY:
"The weekend was truly amazing, the team was so warm and welcoming and I did not expect to enjoy judging so much! Every little detail related to the athletes, spectators and event staff was carefully thought through. The workouts run smoothly, the timetables were followed to the minute, the food was delicious, everything and everyone was always where they needed to be…" (Iga, UK)
"What a fantastic weekend at Tribal Clash, I absolutely loved every moment. This time around I was judging instead of competing and it truly give me an insight into how much hard work is put in to making this event what it is. The whole team worked so hard all weekend to make sure athletes have the best weekend of their year! Only now will I truly appreciate all that goes into it. Thank you to all of the Tribal Clash team for making me feel welcomed and letting me be part of the team!" (Natasha, UK)
"I really enjoyed meeting such a great bunch of folks and I wanted to thank you all for your help and support over the Tribal Clash weekend, and for making me feel so welcome." (Eric, UK)
"What a fantastic event! I have to say my 10th Tribal Clash was not a disappointment and I cannot wait until I see you all again. Epic team as always, thank you for your excellent organisation and to the event heads for making it so smooth." (Melissa, UK)
"I have literally had THE BEST weekend ever here in the Algarve at Tribal Clash. Being part of this amazing staff team was such an incredible experience. I mean where else do you get kitted out in awesome stash, look cool with a radio and earpiece, and get to judge incredible athletes with your toes in the sand and your face in the sun?" (Ellie, Portugal)
"Thank you for welcoming me into the tribe! It was a fantastic weekend!" (Cristiano, Portugal)
"Last year I participated in the mythical Tribal Clash as an athlete and I really enjoyed it. This year I was greeted with open arms by all the staff as a judge, and I loved the experience. Thank you TC family for this extraordinarily wonderful weekend!" (Karina, Portugal)
"I just want to thank you all again for what has been an EPIC few days. Thank you for welcoming me into your tribe, I loved every second! #besttribeever" (Lorna, Portugal)
"You guys were amazing this weekend. I'm so grateful for new and deeper friendships. I'm blessed to have shared this weekend with you all. Thank you." (Mike, USA)
"So grateful to help out and be involved with Tribal Clash! Such a wonderful opportunity to build community, make friends and create great memories!" (Erik, USA)
"What a weekend! I learned a lot, met new people, learned some new slang even. It's always refreshing to be around new people who treat you like you've known each other for ever. Great crew to work with!" (Victoria, USA)
"Thank you so much for providing me the opportunity to be a part of this incredible event – I laughed so hard that I never felt like I even worked."  (Erik, Australia)
"It was great to be part of an awesome team down under, loved every minute of it." (Ian, Australia)
All our international events are staffed by a team consisting of a mixture of UK and local volunteers. All our volunteers receive all meals during the weekend and some cool Tribal Clash kit. Any non-local volunteers (e.g. UK based staff working at one of our international events) also receive free flights and accommodation at location.
Volunteers will only be considered for an event overseas once they have helped at their home event.
If you are interested in joining team Tribal, we want to hear from you! First, fill in the volunteer application form below. By registering as a potential volunteer you are not guaranteed a role – at any Tribal Clash competition we typically have more volunteer applications than we have positions. See you on the beach!