In teams of six, for time:
5K Row Synchro (2) 
+
60 Sumo Deadlift @ 40 KG
20 Synchro Burpees
50 Sumo Deadlift @ 60 KG
20 Synchro Burpees
40 Sumo Deadlift @ 80 KG
20 Synchro Burpees
30 Sumo Deadlift @ 100KG
20 Synchro Burpees
20 Sumo Deadlift @ 120KG
20 Synchro Burpees
10 Sumo Deadlift @ 140KG
20 Synchro Burpees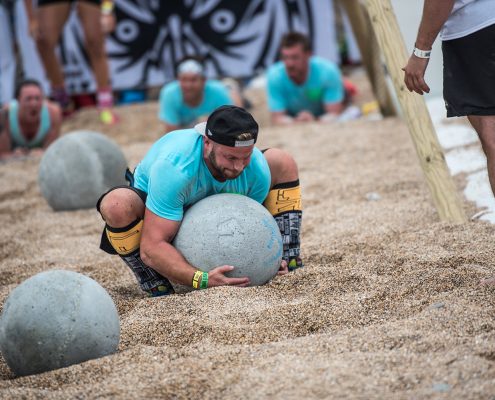 You will need one barbell and bumper plates up to 140KG and two rowers. This workout requires good team work and communication and a well executed strategy. Play to individual strengths. Time stops when both rowers show 5,000 meters and all reps are completed. Reps and row to be completed simultaneously right from GO. Rotate athletes as required and play to individual strengths. There is no point using your stronger male athletes to complete the lighter weight reps for example – get them on the rowers early and save them for the heavy lifts later on. If you have any weaker athletes get them doing reps early and bias their contribution towards the burpees. This is a very strategic workout and when completed head to head with another team gets really exciting especially in the final minutes. All Synchro burpees must be completed by three athletes at a time. All three athletes must have chest and thighs to floor at same moment and jump and clap as one.
WHY SUMO DEADLIFT?
Wide stance, narrow grip. The Sumo Deadlift shifts the emphasis on to the hips and hamstrings when compared with a conventional deadlift set up. At Tribal Clash HQ we like going sumo because it simulates the position required for pulling atlas stones off the floor. Atlas stones have featured nearly every year at Tribal Clash so if you want to get stronger at lifting stones then adding some sumo sauce into your training can only be a good thing, especially if you don't have any actual stones to train with.
---
SUGGESTED WARM UP

We advise using one of our Team Virtuosity Drills to warm up your team before you get stuck into the workout above. These drill are designed to get your team dialled-in to each other and working with smooth and dreamy synchronicity. These drills are great tools and should become a mandatory part of every team training session.
---
TRIBAL SMASH
Your weekly dose of team virtuosity!
The aim of these weekly Tribal Smash workouts is to get your individual athletes working together like one single well oiled machine whilst challenging their fitness. Tribal Smash workouts are great fun and relevant to any aspiring team athletes whether they are on a Tribal Clash team or not.
If you are really serious about doing well at this year's Tribal Clash then why not come along to one of our Team Virtuosity Workshops?