COVID-19 UPDATE: 
TRIBAL CLASH USA IS POSTPONED TO A FUTURE DATE. AS THE GLOBAL CORONAVIRUS PANDEMIC IS STILL UNFOLDING WITH STAY-AT-HOME ORDERS IN PLACE IN THE USA AND EUROPE, WE ARE NOT ABLE TO CONFIRM A RESCHEDULED EVENT DATE. THANK YOU FOR YOUR PATIENCE, STAY SAFE!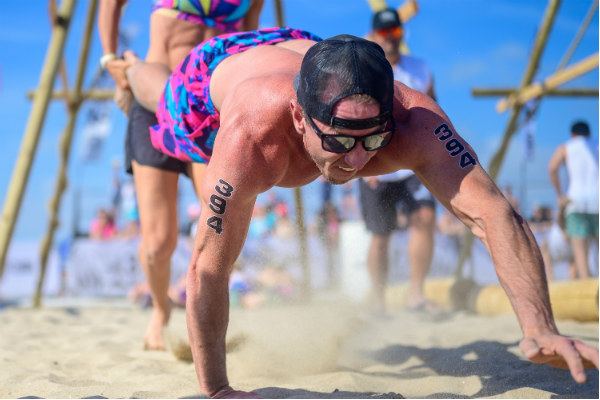 FRIDAY 
14.00 Event village opens
14.00-19.00 Athlete check-in
19.30 Athlete briefing and Saturday's event demo
SATURDAY
08.00 Event 1, Heat 1
18.00 Saturday's events finish
19.00 Athlete briefing and Sunday's event demo
SUNDAY 
08.00 Event 7, Heat 1
17.00 Semi-final
18.00 Final
19.00 Awards
REGISTRATION & CHECK-IN
REGISTRATION
Click here to register your team for Tribal Clash USA 2020. Your team spot at Tribal Clash is confirmed as soon as you have completed payment. From this point on, the spot is non-refundable and non-transferable.
A few months prior to the event, you will be contacted using the email address you registered with to confirm the team name and a few other important details. Once these details have been confirmed, athlete waivers will be sent which must be completed by all registered athletes – your team will be unable to compete unless this has been done.
TEAM CHECK-IN
Teams must check in on the beach the day before the competition begins. Only one team member is required to check in the team – this should be your nominated team captain – please confirm who your team captain is for this purpose. If you are unable to check-in on the Friday evening, it is possible to make alternative arrangements to check in prior to the first event on Saturday morning.
ATHLETE BRIEFINGS
Tribal Clash workouts are always kept secret until the night before the event, meaning that must train for the unknown and be ready for anything.
We will announce Saturday's workouts on the Friday evening, then announce Sunday's workouts on the Saturday evening (as per the programme above). These athlete briefings will take place in the Tribal Clash arena on the beach. Our demo team will run through the workouts and movement standards, then there will be a brief question and answer session. Workout details will be posted on our website as well as on Facebook and Instagram. Athletes must make sure that they understand what is required and how the events are scored.
We cannot answer any questions regarding the events until these athlete briefings, including whether everyone has to swim and how far, or how heavy the equipment is.
SPECTATORS
Spectators are invited to attend free of charge.
Tribal Clash is a fantastic, family-friendly experience for spectators so come along, support your team and enjoy the electric atmosphere!
Don't forget the tribe that exhibits the greatest team spirit across the whole weekend wins the Tribal Spirit Trophy, as voted by the Tribal Clash judges. This is based on the presence and attitude of a team's extended tribe as well as the athletes themselves, so bring as many supporters as you can and prepare to make an impact!
View the 2019 leaderboard here.
TRAVEL
TRAVEL TO HUNTINGTON STATE BEACH
Huntington State Beach is conveniently located near three airports: John Wayne (10 miles away), Long Beach (19 miles away), and Los Angeles International Airport (39 miles away). John Wayne Airport and Long Beach Airport are both reached by daily flights from across the United States, while Los Angeles International Airport is reached by numerous daily flights from around the world. All three airports have good public transport links or visitors can hire a car.
Huntington State Beach is about one hour's drive from Downtown Los Angeles, ninety minutes' drive from San Diego and easily accessible by car from many other parts of California as well as the neighbouring states of Arizona and Nevada.
PARKING
Tribal Clash USA will take place between Tower 7 and Tower 8 on Huntington State Beach, in front of Parking Lot 4. Head south on the Pacific Coast Highway from Huntington Beach Downtown, then turn right when you reach the intersection with Magnolia Street. Follow the road round and you will find plenty of parking right by the beach.
ACCOMMODATION
There are plenty of accommodation options in Huntington Beach and the surrounding area. These include hotels, condos and RV parks – a quick search online will bring up a vast number of options within easy reach of the Tribal Clash arena.
FOOD & DRINK
There are plenty of cafes and restaurants in nearby Huntington Beach, easily reached by car.
We will also be joined by a number of food trucks – details TBC. 
"The best competition I have ever been a part of. @tribalclash you helped us grow in confidence, experience, friendship, teamwork/communication and appreciation for the best test in functional fitness and teamwork! We are proud to be part of the tribal family and can't wait to see ya'll on the beach next year!!!" (Richard Russell CrossFit)
"This event was absolutely EPIC in every possible way. It was professionally ran. The movements were both challenging and unorthodox which made it fun. The events really required you to move as a unit. Plus you're on the BEACH of all places!! This has got to be the best event I've ever been a part of. Truly a great experience and honored to take part in their first ever USA event." (CrossFit Firestone)
"There are not enough words to describe the amount of fun I had this weekend with these guys!! @tribalclash was hands down the most epic weekend Ive had in many years and would do it again anytime, anywhere with this crew." (Mutiny CrossFit)
"What. A. Weekend. Thank you to @tribalclash for giving us a weekend full of hard work, sweat and all the fun…I am so glad I was one of the few lucky people to give your first stateside competition a go!" (24K CrossFit)
"What an incredible weekend. Tribal Clash you didn't disappoint. Expertly run, exciting and very challenging." (Divergent CrossFit)