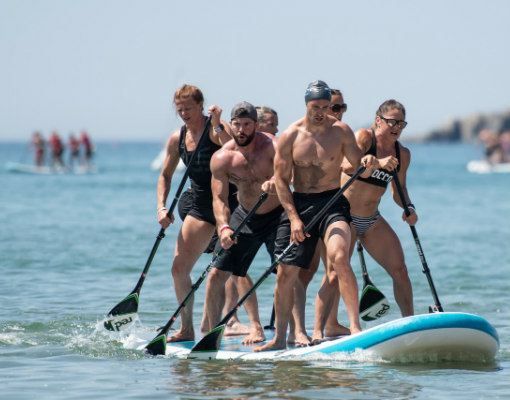 FRIDAY
14.00 Event village opens
14.00-19.00 Athlete check-in
19.30 Athlete briefing and Saturday's event demo
SATURDAY
08.00 Event 1, Heat 1
18.00 Saturday's events finish
19.00 Athlete briefing and Sunday's event demo
SUNDAY 
08.00 Event 6, Heat 1
17.00 Semi-final
18.00 Final
19.00 Awards
20.00 After-party
Please note this schedule is subject to change
TEAM REGISTRATION & CHECK-IN
REGISTRATION
Tribal Clash UK 2020 is sold out. If you were successful in booking your team spot, this was confirmed as soon as you completed payment. The spot is non-refundable and non-transferable.
A few months prior to the event, you will be contacted using the email address you registered with to confirm the team name and a few other important details. Once these details have been confirmed, athlete waivers will be sent which must be completed by all registered athletes – your team will be unable to compete unless this has been done.
TEAM CHECK-IN
Teams must check in on the beach the day before the competition begins. Only one team member is required to check in the team – this should be your nominated team captain – please confirm who your team captain is for this purpose. If you are unable to check-in on the Friday evening, it is possible to make alternative arrangements to check in prior to the first event on Saturday morning.
ATHLETE BRIEFINGS
Tribal Clash workouts are always kept secret until the night before the event, meaning that must train for the unknown and be ready for anything.
We will announce Saturday's workouts on the Friday evening, then announce Sunday's workouts on the Saturday evening (as per the programme above). These athlete briefings will take place in the Tribal Clash arena on the beach. Our demo team will run through the workouts and movement standards, then there will be a brief question and answer session. Workout details will be posted on our website as well as on Facebook and Instagram. Athletes must make sure that they understand what is required and how the events are scored.
We cannot answer any questions regarding the events until these athlete briefings, including whether everyone has to swim and how far, or how heavy the equipment is.
SPECTATORS
Spectators are invited to attend free of charge.
Tribal Clash is a fantastic, family-friendly experience for spectators so come along, support your team and enjoy the electric atmosphere!
Don't forget the tribe that exhibits the greatest team spirit across the whole weekend wins the Tribal Spirit Trophy, as voted by the Tribal Clash judges. This is based on the presence and attitude of a team's extended tribe as well as the athletes themselves, so bring as many supporters as you can and prepare to make an impact!
VENDORS
The Tribal Clash shop will be on site selling merchandise all weekend.
Vendors at previous events include event sponsors Progenex and Red Paddle Co.
View the 2019 leaderboard here.
TRAVEL
TRAVEL TO BANTHAM
Bantham Beach is located in South Devon, 20 miles from Plymouth , 40 miles from Exeter and just 5 miles from the town of Kingsbridge. The easiest way to get around is by car instead of relying on public transport – the beach itself cannot be reached by bus.
Visitors can fly to Exeter Airport (1 hour by car) or Bristol Airport (2 hours by car) from destinations across the UK and Europe, or take a ferry to Plymouth from France or Spain (55 minutes by car).
PARKING
Tribal Clash competitors and spectators can park at the beach – a parking pass is required and will be available for purchase closer to the event. 
The beach carpark is at beach level, right next to the competition arena and event village. Your parking pass covers one vehicle for the entire weekend (Fri-Mon). If you are camping and want to park overnight in Bantham, you must buy Overnight Weekend Parking pass. If you are not camping and staying elsewhere, you can buy a Day Weekend Parking pass.
ACCOMMODATION
Tribal Clash competitors and spectators can camp just a short distance from the Tribal Clash arena. Camping and campervan passes will be available to purchase closer to the event.
The campsite at Tribal Clash is a level field right next to the beach carpark, a short walk from the arena. Please note that this is a temporary campsite with limited facilities. There are no electric hookups available. Toilets and showers are provided. The camping pass is per person, per weekend.
Campervans require a campervan pass, this covers your van plus two people for the entire weekend. Any additional people sleeping in the van must buy a per-person camping pass. Please note that campervans are limited to the equivalent size of a VW T5 (5m in length). No motorhomes, or towing caravans are permitted.
There are plenty of other accommodation options nearby, primarily holiday cottages and campsites. A quick search online will bring up a number of options.
FOOD & DRINK
A number of food and drink options will be available at the beach. There is also a very good pub in the village of Bantham. 
There are a number of supermarkets in the nearby town of Kingsbridge where visitors can stock up.
"Tribal clash is a truly amazing weekend with truly amazing people showing truly amazing feats of strength and fitness." CrossFit Capacitas
"Tribal Clash you never disappoint. Great weekend spent competing and meeting some awesome athletes, bring on next year!" CrossFit Kent and Sussex
"My 6th Tribal Clash and the best one yet!  Body shattering workouts, insane atmosphere and such a stunning location!" White Noise Gym