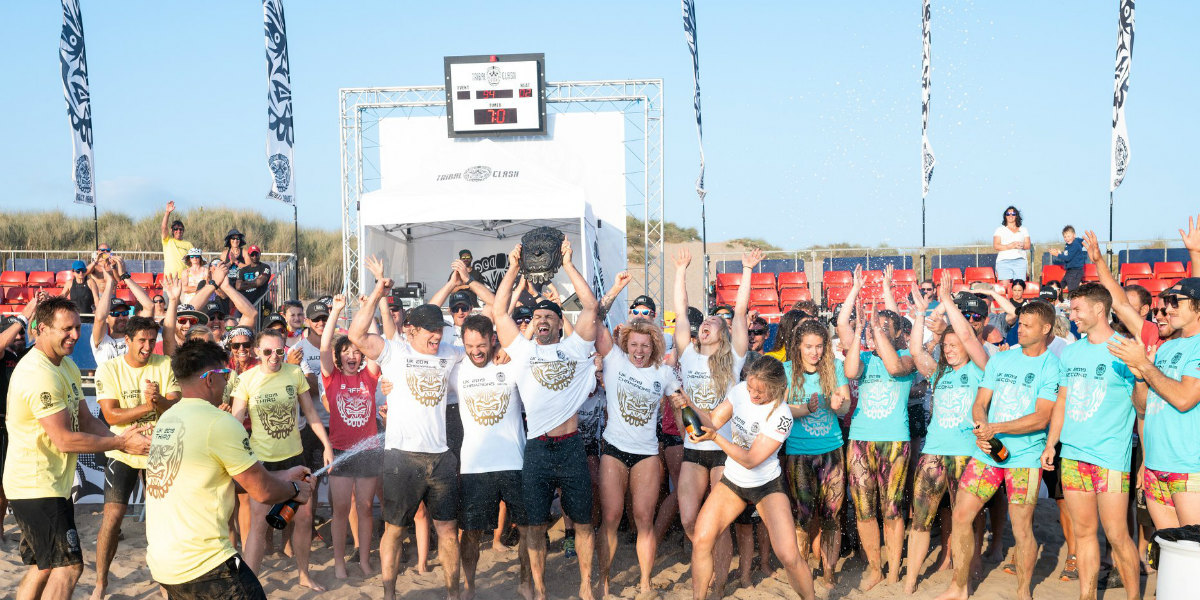 Tribal Clash returned to beautiful Bantham Beach in South Devon for the third time in July 2019. Tribal Clash UK 2018 winners Halo Tops were back to defend their title, with other challengers for the top spot including teams from CrossFit Perpetua, CrossFit Ozbox, Unit 6, CrossFit 1971 and CrossFit Exe.
This year's Tribal Clash UK was tougher than ever. Teams were tested in every conceivable way. We made them run long distance, short distance and middle distance. We made them run on their own and as a team. We made them run with a sandworm, uphill and in the water. We made them lift heavy, we made them lift light and fast. We made them swim, climb, jump, flip and carry. And for the teams that made it into the final, we combined many of these elements into a savage test of all-round fitness and team capability.
Many competitors, spectators and volunteers have told us that this was their favourite Tribal Clash yet, so here's a look back at an epic weekend!
DAY ONE - SATURDAY 13TH JULY
EVENT 1: RUN-SWIM-RUN
Tribal Clash UK 2019 kicked off with a mass start run-swim-run from Bantham Beach to the top of the iconic Burgh Island and back. All 930 athletes followed a route which took them across the river Avon onto Bigbury-on-Sea beach, around flags in the sea and up a steep path to the huers hut atop Burgh Island, then back across to Bantham. Scores were the combined times for all six athletes.
Event 1 leaderboard
1 Chill Ze Chill Since 1971 (03:01:14)
2 Halo Tops (03:03:09)
3 CrossFit Exe (03:09:17.0)
Average combined team time: 03:42:31
Fastest individual time: 00:25:40 (CFSA)
Average individual time: 00:37:05
Click here to view all Event 1 times 
EVENT 2: THE LUNGE
Event 2 saw 20 teams take to the arena at the same time to play with an old Tribal Clash favourite; the log worm. Teams completed 90 thrusters and 30 synchro over-worm burpees before setting out on a log worm lunge around the arena. If they completed the lunge race within the 16 minute time cap, they then continued with an AMRAP of 30 thrusters and 10 synchro over-worm burpees. The key to this event was synchronicity – if any athletes were out of time in any element, they had to repeat the thruster or burpee rep, or faced a time penalty on the lunge. The very best teams lunged around the arena without stopping or putting the worm down, allowing them to return to their lane and get started on the AMRAP. This was a tough workout for the legs with only a brief rest for three athletes on each round of burpees.
Event 2 leaderboard
1 Kaha (238 reps)
2 CrossFit Exe (230 reps)
3 CrossFit Peckham (219 reps)
Average score: 132 reps
After 2 events, Kaha and CrossFit Exe were tied at the top of the leaderboard with 2018 champions Halo Tops sat in third place.
EVENT 3: HILL SPRINTS
This was undoubtedly the most savage event of the weekend, making the most of the stunning countryside that surrounds Bantham Beach. In previous years, competitors at Tribal Clash have raced through the steep fields which overlook the beach as part of a longer run, but this year's challenge was even tougher. All athletes had to complete three hill sprints, each 100m long. The first sprint didn't seem too bad for many of the competitors, but by the third attempt some were crawling up the hill and collapsing at the top unable to move for a few minutes – surely a sign of putting in maximum effort?! Scores were the combined times of all sprints for all six athletes.
Event 3 leaderboard
1 5 Celts & A Saxon (09:19.6)
2 Kaha (09:20.1)
3 Amrappers Delight (09:28.3)
Average combined team sprint time: 12:50.1
Fastest individual sprint time: 00:20.4 (360 Heroes & CrossFit Iron Duke)
Fastest total individual sprint time: 01:11.4 (Ozbox Critters)
Average sprint time: 00:42.8
Average sprint 1 time: 00:33.6
Average sprint 2 time: 00:43.0
Average sprint 3 time: 00:51.8
Click here to view all Event 3 times
After 3 events, Kaha topped the leaderboard with Halo Tops in second and CrossFit Exe in third.
EVENT 4: TEAM SWIM
Event 4 included a piece of kit that is new to Tribal Clash UK but has previously been used in each of our other competitions – the rescue board. Teams completed a swim lap around a buoy while all holding on to an inflatable rescue board, then returned to their lane to complete as many synchro bar touching burpees in the time that remained out of 10 minutes.
Event 4 leaderboard
1 Kaha (70 reps)
2 Las Bolas Grandes (70 reps)
3 Chill Ze Chill Since 1971 (68 reps)
Average score: 40 reps
Once the 10 minute time cap was reached, teams proceeded straight into Event 5.
EVENT 5: THE TYRE
Event 5 was split into two parts, combining two elements which often feature at Tribal Clash – up & overs and shoulder to overhead reps with a tractor tyre. During the first 5 minutes of the workout, teams accumulated as many points as they could by getting up and over a wooden beam. Teams were rewarded for every unassisted rep they completed and received bonus points each time all six athletes managed to get over the bar on their own, leading to a wide spread of scores in this section. Teams then had 5 minutes to accumulate as many shoulder to overhead reps as they could with a tractor tyre. The twist? A second tyre must be held overhead at all times by the remaining athletes in order for the reps to count – a real shoulder burner!
Event 5 leaderboard
1 Las Bolas Grandes (166 reps)
2 Ozbox Critters (154 reps)
3 White Noise Gym (129 reps)
Average score: 66 reps
At the end of day one, Kaha were in first place followed by Las Bolas Grandes and Chill Ze Chill Since 1971.
DAY TWO - SUNDAY 14TH JULY
EVENT 6: THE TYRE STACK
Sunday started with a repeat of a classic Tribal Clash workout which first featured in 2015 – a simple and elegant test of teamwork and communication. Each team was faced with a stack of 6 tractor tyres which they had to unload, flip to the other end of the lane and restack as many times as possible. To achieve the very best score, teams had to come up with a solid strategy that enabled all athletes to work for the full duration of the workout and move the tyres as fast as possible. As well as counting the total number of points scored in this workout, a tie break time was also taken after the first 2 rounds.
 Event 6 leaderboard
1 Las Bolas Grandes (48 reps)
2 Blackwater Beached Whales (43 reps)
3 Roulette (42 reps)
Average score: 34 reps
Quickest tie break time: 02:10 (Las Bolas Grandes)
Average tie break time: 03:09
After 6 events, the top two teams swapped places leaving Las Bolas Grandes in first place followed by Kaha, with Chill Ze Chill Since 1971 remaining in third.
EVENT 7: THE WORM RUN
In Event 7 we brought out one of our favourite bits of Tribal Clash kit – the sandworm – and used it in a way unlike ever before. Making the most of the low tide which exposed a large expanse of beach, teams had to pick up the sandworm and run three laps around a marked course with the awkward object across their shoulders. If teams didn't make it back from their second lap within 6 minutes then they weren't allowed to set off on their third lap, a situation that eight teams found themselves in.
Event 7 leaderboard
1 Halo Tops (05:48)
2 Chill Ze Chill Since 1971 (05:54)
3 Las Bolas Grandes (05:56)
Average time (for all 3 laps): 07:29
After Event 7 the top three remained the same, with Las Bolas Grandes in first place and Kaha and Chill Ze Chill Since 1971 now on equal points in second place.
EVENT 8: GAME OF STONES
Those who took part in Tribal Clash Portugal 2019 may recognise this workout, as it bears a great resemblance to the extremely popular Event 8 from the previous competition. Teams had 5 minutes to work their way through 30 ground to overhead reps with the sandworm, 5 minutes to complete 18 rope climbs then 5 minutes to accumulate points for atlas stone lifts. When they reached the atlas stones, athletes took it in turns to lift and could choose between 3 stones which each had different points values. If they finished the sandworm reps or rope climbs before the time elapsed, they were able to move on to the next section early. Experienced Tribal Clashers smashed through the sandworm reps to buy extra time for the other elements, and by the time teams got to the atlas stones we saw a huge variance in scores – some strong teams had all six athletes lifting the heavy atlas stone for maximum points, while others struggled with the lightest stones available. The score was the sum of sandworm reps and rope climbs completed plus the points accumulated for atlas stone lifts.
Event 8 leaderboard
1 Stonehench (273 points)
2 Las Bolas Grandes (238 points)
3 Halo Tops (236 points)
Average score: 84 points
After Event 8, Las Bolas Grandes remained in first place and Kaha returned to second place, leaving Chill Ze Chill Since 1971 in third place.  
QUARTER-FINAL
After 8 challenging workouts, the top 60 teams proceeded to a Quarter-Final which was then used to determine which 20 teams would make it to the tug-of-war. The Quarter-Final had equal weighting to all events which had come before this, meaning that there was all to play for in this round.
The Quarter-Final saw the return of the atlas stones, but this time teams had to carry them up and down the lanes in a bear hug hold. Teams split into two trios, each of which worked during four intervals of decreasing duration to shift three atlas stones as far as they could. The lightest atlas stones for each gender were now removed, meaning that some athletes struggled to even pick their stone up let alone move with it, while others were able to run with theirs quite comfortably. This five minute workout was a true test of grit and determination, with each athlete having to give it their all as every metre counted.
Quarter-Final leaderboard
1 Halo Tops (873 metres)
2 Chill Ze Chill Since 1971 (725 metres)
3 Las Bolas Grandes (702 metres)
Average distance: 461 metres
The placings from the Quarter-Final were added to the placings after all previous events, to give the new points totals. This left Las Bolas Grandes in first place going into the Semi-Final, with Halo Tops and Chill Ze Chill Since 1971 in joint second place.
SEMI-FINAL
The semi-final at Tribal Clash is always a tug-of-war and this year's was as thrilling as ever! Placings going into this round determined the pairings, with first place pulling against twentieth, second place pulling against nineteenth etc. The longest battle this year was between CrossFit Exe and CrossFit CM2, which eventually saw the former win after 6 and a half minutes.
Here are the tug-of-war contests – teams in bold were the winners:
Las Bolas Grandes vs AM Crew
Halo Tops vs Stonehench
Chill Ze Chill Since 1971 vs 5 Celts & A Saxon
Kaha vs CrossFit Cumbria
Kuwait Camel Hoof vs OzBox Critters
CrossFit CM2 vs CrossFit Exe
Perpetua vs Blackwater Beached Whales
White Noise Gym vs CrossFit Peckham
Roulette vs Don't Call It a Comeback
Crossfit Worksop vs Amrappers Delight
FINAL
Having already competed in 10 savage events, the finalists now faced their toughest challenge yet. The teams had to work through a long and tiring chipper which included synchro burpees over the sandworm with all athletes working at the same time, SUP laps, short rope climbs and an individual swim lap. The epic final culiminated in teams shifting two sandworms around the arena, followed by synchro squats with both sandworms moving simultaneously. This proved to be by far the most difficult part of the weekend, with many teams struggling to pick up a sandworm with just three athletes let alone squat with it. The leaders constantly changed throughout the nail-biting final, meaning that it was impossible to tell who the winner would be as the teams worked through the different elements.
In the end the first team to cross the finish line was Kaha, one of the most consistent teams of the weekend who came from behind and completed their reps just over 30 seconds ahead of Las Bolas Grandes. Third place went to Don't Call It a Comeback, with CrossFit Exe just behind in fourth.
Final leaderboard
1 Kaha (33:42)
2 Las Bolas Grandes (34:16)
3 Don't Call It A Comeback  (36:18)
THE TEAMS
This year's event was a true test of all-round fitness and gave all athletes a chance to shine, whether it's because they were the quickest sprinter in their team or because they managed to lift the heavy atlas stone. Athletes ranged in age from 18 to 57 years old, showing that the competition really is suitable for everyone. A special mention goes to the whole tribe from CrossFit 1971, winners of the Tribal Spirit Trophy who came in force to support their nine teams, one of which made it to the final.
While we saw many familiar names feature in the top ten across the weekend, the result was by no means a fait accompli as a total of six teams won at least one event.
Winners Kaha (Motion Training/CrossFit Surbiton) established themselves as the team to beat very early on, winning two events on Day One and going into Day Two in first place. Despite having no event wins on Sunday, the team finished within the top five in six of the first eight events, seeing them into the Quarter-Final in second place. A fifth place finish in this event took Kaha into the Semi-Final, and a 90 second tug-of-war guaranteed their place in the Final. The team stayed in the middle of the pack for the majority of the long final but caught up to the leaders quickly when they got to the sandworms, working as a well oiled machine to complete their synchro squats first and clinch first place. While most of the team had trained together before the competition, Sapphire Goddard was a last minute recruit, proving to be a fantastic addition who gelled extremely well with her teammates. We can't wait to see Kaha come back next year to defend their title as Tribal Clash UK champions!
Runners up Las Bolas Grandes (Unit 6) were a strong team all weekend, winning three events and finishing in the top five in all but two events. This saw them go into the tug-of-war in first place, then winning their contest easily in under 25 seconds. In the final, Las Bolas Grandes were consistently strong once again and found themselves in first place after the individual swim portion. However, the team struggled to pick up the sandworm with just three athletes and lost their lead just a few reps from the finish.
Don't Call It A Comeback (Unit 6) were perhaps an unexpected third place finisher (not least to themselves), with their highest placing of the weekend having been tenth place. The team went into the Quarter-Final in fifteenth place, jumped up to tenth after this event then won their tug-of-war in 35 seconds. Don't Call It A Comeback were steady throughout the final, gaining momentum during the SUP laps to exit the water in second place but dropping back down the field until the final moments. Good teamwork and communication on the sandworm secured them the last remaining spot on the podium, leading to huge celebrations for Unit 6.
Unit 6 teams are regular podium finishers at Tribal Clash, with members of both Las Bolas Grandes and Don't Call It A Comeback having finished in the top three at the UK competition every year since 2016. Can a local team from Unit 6 finally reach first place when it really counts next year?!
Huge congratulations to all the teams that survived the weekend, particularly those that made it to the gruelling final!