Tribal Clash Portugal is powered by:
CORONAVIRUS UPDATE: 
Tribal Clash Portugal is postponed indefinitely, we have no visibility on a possible future date at the moment as the global coronavirus pandemic is still unfolding. Thank you for your patience during this unprecedented crisis!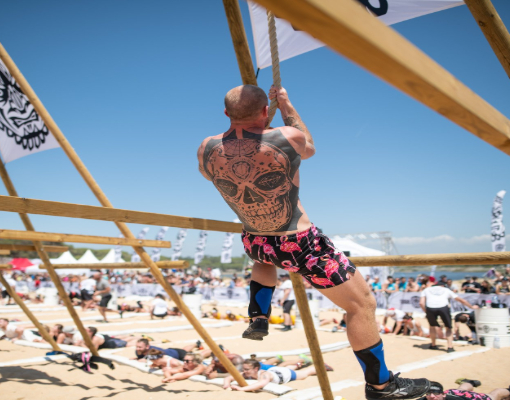 FRIDAY
14.00 Event village opens
14.00-19.00 Athlete check-in
18.30 Athlete briefing and event demo
SATURDAY 
08.30 Event 1, Heat 1
18.00 Saturday's events finish
18.30 Athlete briefing and event demo
SUNDAY 
08.00 Event 7, Heat 1
17.15 Semi-final
18.00 Final
18.30 Awards
19.30 After-party at BJ's Oceanside
Please note this schedule is subject to change
TEAM REGISTRATION & CHECK-IN
REGISTRATION
Tribal Clash Portugal 2020 is sold out with no waiting list.
If you were successful in booking your team spot, this was confirmed as soon as you completed payment. The spot is non-refundable and non-transferable.
A few months prior to the event, you will be contacted using the email address you registered with to confirm the team name and a few other important details. Once these details have been confirmed, athlete waivers will be sent which must be completed by all registered athletes – your team will be unable to compete unless this has been done.
TEAM CHECK-IN
Teams must check in on the beach the day before the competition begins. Only one team member is required to check in the team – this should be your nominated team captain – please confirm who your team captain is for this purpose. If you are unable to check-in on the Friday evening, it is possible to make alternative arrangements to check in prior to the first event on Saturday morning.
ATHLETE BRIEFINGS
Tribal Clash workouts are always kept secret until the night before the event, meaning that must train for the unknown and be ready for anything.
We will announce Saturday's workouts on the Friday evening, then announce Sunday's workouts on the Saturday evening (as per the programme above). These athlete briefings will take place in the Tribal Clash arena on the beach. Our demo team will run through the workouts and movement standards, then there will be a brief question and answer session. Workout details will be posted on our website as well as on Facebook and Instagram. Athletes must make sure that they understand what is required and how the events are scored.
We cannot answer any questions regarding the events until these athlete briefings, including whether everyone has to swim and how far, or how heavy the equipment is.
SPECTATORS
Spectators are invited to attend free of charge.
Tribal Clash is a fantastic, family-friendly experience for spectators so come along, support your team and enjoy the electric atmosphere!
Don't forget the tribe that exhibits the greatest team spirit across the whole weekend wins the Tribal Spirit Trophy, as voted by the Tribal Clash judges. This is based on the presence and attitude of a team's extended tribe as well as the athletes themselves, so bring as many supporters as you can and prepare to make an impact!
VENDORS
The Tribal Clash shop will be on site selling merchandise all weekend.
Vendors at previous events include event sponsor Progenex and Tugasox, as well as local sports therapists.
View the 2019 leaderboard here.
TRAVEL
TRAVEL TO QUARTEIRA
Quarteira is just over 20km from Faro airport, the gateway to southern Portugal which is served by daily flights to destinations across Europe. Low cost airlines including EasyJet, Flybe and Ryanair operate flights to cities across the United Kingdom. On arrival in Faro, visitors can easily hire a car and drive about half an hour to Quarteira. Private transfers are also available, or visitors can travel by bus although this is not as straightforward. Quarteira is about 2.5 hours by car from both Lisbon and Seville, making it easily accessible for people travelling from other parts of Portugal and Spain. There is no train station in Quarteira but visitors can get a bus to nearby Loule and catch a train from here.
TRAVEL TO PRAIA DO ALMARGEM
The Tribal Clash arena on Praia do Almargem is about 5 minutes' drive from the centre of Quarteira and can also easily reached on foot. – head for BJ's Oceanside (Rua Foz do Almargem, 8125-000 Quarteira).
PARKING
There are three main parking areas within walking distance of the Tribal Clash arena. All are public car parks which allow visitors to park all day free of charge. As there will be such a high volume of competitors and spectators this year, you may not be able to park in the main parking area near the arena so please plan accordingly to make sure you are on time for your heat. Our parking marshalls will advise drivers when the main car park is full.
Absolutely DO NOT under any circumstances park at the event entrance gate or along the road to the beach – you will be blocking traffic, causing total chaos and a delay in the event schedule. DO NOT BE THAT GUY!
ACCOMMODATION
There are plenty of accommodation options to suit all budgets in Quarteira and the surrounding area. These include campsites, apartments, villas and hotels – a quick search online will bring up a vast number of options within easy reach of the Tribal Clash arena.
FOOD & DRINK
During the Tribal Clash competition weekend, all catering on Praia do Almargem will be provided by BJ's Oceanside.
They will have a bar area selling drinks and a separate service area on the beach where food will be available throughout the weekend. Hot meals will be available as well as a selection of sandwiches, fruit, cakes and energy bars.
Please note that the restaurant itself will only be open for customers who have made a prior booking. To book a table, please email bookings@bjsoceanside.com.
There are plenty of other cafes and restaurants in Quarteira, easily reached by car or by a 15 minute walk along the beach. There are also a number of supermarkets in the area (including a Lidl which is just a few minutes away by car) where visitors can stock up.
"Thank you to all the organisers, judges and volunteers for making this one of the most memorable weekends I've had in a long time. Tribal Clash, Team Kratos will be back!" Ion Strength and Conditioning
"Hands down the best competition I've had the privilege of being a part of. Can't wait until Tribal Clash Portugal 2020!" In2 Training Farnham
"Another top class event by Tribal Clash! Have to give a massive shout out to everyone who took part to run the event, it was the best yet. Thank you." CrossFit Sweet Track
"Literally the best weekend competing at Tribal Clash with an amazing team. I just want a rewind button so I can go back and do it all again! First ever Tribal but definitely not my last." Reebok CrossFit Tyneside
"Thank you for one of the best weekends I have ever had. I went in with hopes of having a good time, and left feeling I had one of the greatest experiences ever!" WIT Training
"Thank you for an absolutely phenomenal weekend. As a team with an average age of 50 we were a bit worried we would be out of our depth, but the workouts were brilliantly programmed to provide the ultimate team challenges and were wonderfully inclusive!" CrossFit Raeda
"What an incredible weekend at Tribal Clash. Love how sport can create the biggest highs and lows. So many amazing memories that will last forever. We loved every second of it!" North Engine CrossFit