Tribal Clash Australia is postponed due to the Covid-19 crisis. Australia borders are closed to international arrivals until further notice, preventing us from sending crew and equipment. We are monitoring the situation non-stop and as soon as flights from the UK resume, we'll be able to reschedule Tribal Clash Australia. We send you healthy wishes from the other side of the world, and we can't wait to be with you soon!
All team captains have been contacted on 7th December 2020 regarding the 2021 event. Please email us at info@tribalclash.com regarding your ticket options, and we look forward to assisting you.
REGISTRATION & CHECK-IN
REGISTRATION
Click here to register your team for Tribal Clash Australia 2020. Your team spot at Tribal Clash is confirmed as soon as you have completed payment. From this point on, the spot is non-refundable and non-transferable.
A few months prior to the event, you will be contacted using the email address you registered with to confirm the team name and a few other important details. Once these details have been confirmed, athlete waivers will be sent which must be completed by all registered athletes – your team will be unable to compete unless this has been done.
TEAM CHECK-IN
Teams must check in on the beach the day before the competition begins. Only one team member is required to check in the team – this should be your nominated team captain – please confirm who your team captain is for this purpose. If you are unable to check-in on the Friday evening, it is possible to make alternative arrangements to check in prior to the first event on Saturday morning.
ATHLETE BRIEFINGS
Tribal Clash workouts are always kept secret until the night before the event, meaning that must train for the unknown and be ready for anything.
We will announce Saturday's workouts on the Friday evening, then announce Sunday's workouts on the Saturday evening (as per the programme above). These athlete briefings will take place in the Tribal Clash arena on the beach. Our demo team will run through the workouts and movement standards, then there will be a brief question and answer session. Workout details will be posted on our website as well as on Facebook and Instagram. Athletes must make sure that they understand what is required and how the events are scored.
We cannot answer any questions regarding the events until these athlete briefings, including whether everyone has to swim and how far, or how heavy the equipment is.
SPECTATORS
Spectators are invited to attend free of charge.
Tribal Clash is a fantastic, family-friendly experience for spectators so come along, support your team and enjoy the electric atmosphere!
Don't forget the tribe that exhibits the greatest team spirit across the whole weekend wins the Tribal Spirit Trophy, as voted by the Tribal Clash judges. This is based on the presence and attitude of a team's extended tribe as well as the athletes themselves, so bring as many supporters as you can and prepare to make an impact!
TRAVEL
TRAVEL TO WOLLONGONG
Wollongong is located just over one hour's drive south of Sydney, reached by driving just over an hour down the M1 or taking the slightly longer and far more scenic route along the famous Grand Pacific Drive. Visitors can also travel by train from Sydney to Wollongong, arriving in around 90 minutes.
Sydney International Airport is served by daily flights to cities across Australia, as well as direct flights to destinations further afield in Oceania, Asia, the Middle East and beyond. On arrival, visitors can hire a car to travel to Wollongong or take public transport.   
TRAVEL TO WOLLONGONG NORTH BEACH
There are good transport links within Wollongong including a free local bus which runs around the city centre, with a stop just a few minutes' walk from the Tribal Clash arena on Wollongong Beach. Head for North Wollongong Surf Lifesaving Club – the event will take place on the beach just in front of this building.
PARKING
Free car parking is available in the area surrounding North Wollongong Beach, with a car park opposite the Surf Life Saving Club and more parking spaces along Cliff Road. However we would recommend that competitors park elsewhere if possible as space will be limited near the beach.
Destination Wollongong suggest the following:
– Park at Fairy Meadow Surf Life Saving Club (Elliotts Road, Fairy Meadow) then catch the FREE Gong Shuttle Bus from Elliotts Road (Stop 6) to North Wollongong Beach.
– Park at Stewart Street Car Park East (near Harbour Street, Wollongong) then catch the FREE Gong Shuttle Bus from Illawarra Performing Arts Centre, Burelli Street (Stop 12) to North Wollongong Beach.
Information about the free bus can be found here. On Saturdays the bus runs every 20 minutes between 8am – 6pm. On Sundays the bus runs every 20 minutes between 9.40am – 5.20pm. Download the free version of the TripView app to check bus times for routes 55A and 55C.
ACCOMMODATION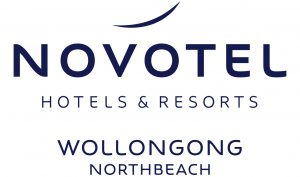 There are plenty of accommodation options to suit different budgets in and around Wollongong including hotels, holiday parks and self-catering houses.
Official Accommodation Partner of Tribal Clash Australia 2020, Novotel North Beach, is the closest hotel to the competition arena. The award-winning hotel is located just a few steps away from Wollongong North Beach, offering rooms with sea views.
FOOD & DRINK
There are a number of cafes around the beach where Tribal Clash competitors and spectators can buy food and drink, the nearest being Diggies Café and North Kiosk. North Kiosk will be selling takeaway drinks, snacks and larger meals from 7.30am – 4pm, while Diggies Café is also open throughout the day. Other dining options within a ten minutes' walk of the beach include PEPE's On The Beach, Mudcat Café, North Beach Pavilion, the Health Hut, Connie's Café, Aqua Restaurant and Blu Orange Cafe.
THINGS TO DO
There is plenty for visitors to do in and around Wollongong, from cultural activities to nature based adventures and extreme sports. Highlights include the highest zipline tour in Australia, kayaking tours, rainforest walks, horse riding and the largest Buddhist temple in the Southern Hemisphere!

Skydive over North Wollongong Beach with Sky Dive Australia, who are offering $30 off tandem skydives from up to 15,000 ft for Tribal Clash participants! Use the promo code TRIBALCLASH to receive your discount.
Valid at Skydive Sydney-Wollongong only, must book and jump between 10-20 February 2020. Conditions apply.
"What an amazing weekend! Thanks to Tribal Clash for organising such an AWESOME event – safe to say we'll be back in 2020!" (Functional U Melbourne)
"Hands down the best comp I have ever done. The workouts were unique, super challenging, and SO MUCH FUN!" (CrossFit Athletic)
"Who would've ever known that exercising could be soooo much fun! Sun, surf, great friends & electric vibes! Tribal Clash you were so bloody EPIC! Cannot wait to relive it all again!" (CrossFit Hallam)
"Tribal Clash: 2 days, 9 events, without doubt the most physically challenging thing I've done in my life. Grateful for an amazing team and an incredible experience. A world class event from the organizers of Tribal Clash – thank you for bringing this incredible initiative to Australia." (GOPT Personal Training)
"Honestly the Tribal Clash weekend blew us all away. The organisation and strategy to keep this beast moving so smoothly the way it did was incredible." (WOD OUT)