For Time:-
1K Synchro(6) Row or 2K Synchro(3) Row
50 Worm Thrusters
30 Rope Climbs
ROW: The 1K row is deemed complete once ALL rowers show the required distance, NOT when the first rower hits it. Penalise teams that fall out of perfect sync with a 20 second time penalty for every poorly executed rep. As always this workout can easily be adapted to suit the number of athletes you have in a team and/or the equipment you have available. For example If you only have three rowers so you cant get all six athletes rowing at the same time then have your six athletes complete 2K row total but have them do it in two sub teams of three and allow them to rotate as often as they like. In many ways competing the synchro row in two waves of three athletes increases the intensity and requires a greater level of strategising and communication, but synchro rowing with six athletes emphasises the need for perfect synchronicity. Tune the workout to suit your required training goal.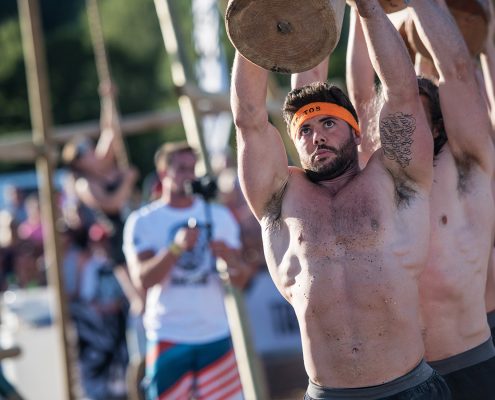 WORM THRUSTERS:
ALL six athletes must hit the bottom of the movement with hip crease below the top of knee. There is no requirement to fully lock out with the worm overhead but the worm must pass over the head from shoulder to shoulder with each rep. You may want to experiment with the way your athletes face, but we have found that if the team doesn't have to actually travel with the worm like in this workout, then the best option is to have all six athletes facing in towards the very centre of the worm. This will mean three facing one direction and three facing the other.
ROPE CLIMBS:
These are to be completed by one athlete at a time. Rotate working athlete as required. Working athlete must change with every rep. There is no need to stay in any kind of order and there is no requirement to divide reps equally. It is perfectly acceptable for one or several athletes to complete zero reps in this part of the workout. Play to individual strengths – If you have two super fast rope climbers for example then by all means have them do the lions share of the reps.
TOP TIPS: This is a fun, fast paced workout that can be really exciting when you have two or more teams racing head to head. Make a simple but solid plan with your team before you start and stick to it if possible. Decide on a target rep scheme for the work thrusters and discuss what is going to happen if any team members start to struggle at any point.
---
SUGGESTED WARM UP

We advise using one of our Team Virtuosity Drills to warm up your team before you get stuck into the workout above. These drill are designed to get your team dialled-in to each other and working with smooth and dreamy synchronicity. These drills are great tools and should become a mandatory part of every team training session.
---
TRIBAL SMASH
Your weekly dose of team virtuosity!
The aim of these weekly Tribal Smash workouts is to get your individual athletes working together like one single well oiled machine whilst challenging their fitness. Tribal Smash workouts are great fun and relevant to any aspiring team athletes whether they are on a Tribal Clash team or not.
If you are really serious about doing well at this year's Tribal Clash then why not come along to one of our Team Virtuosity Workshops?