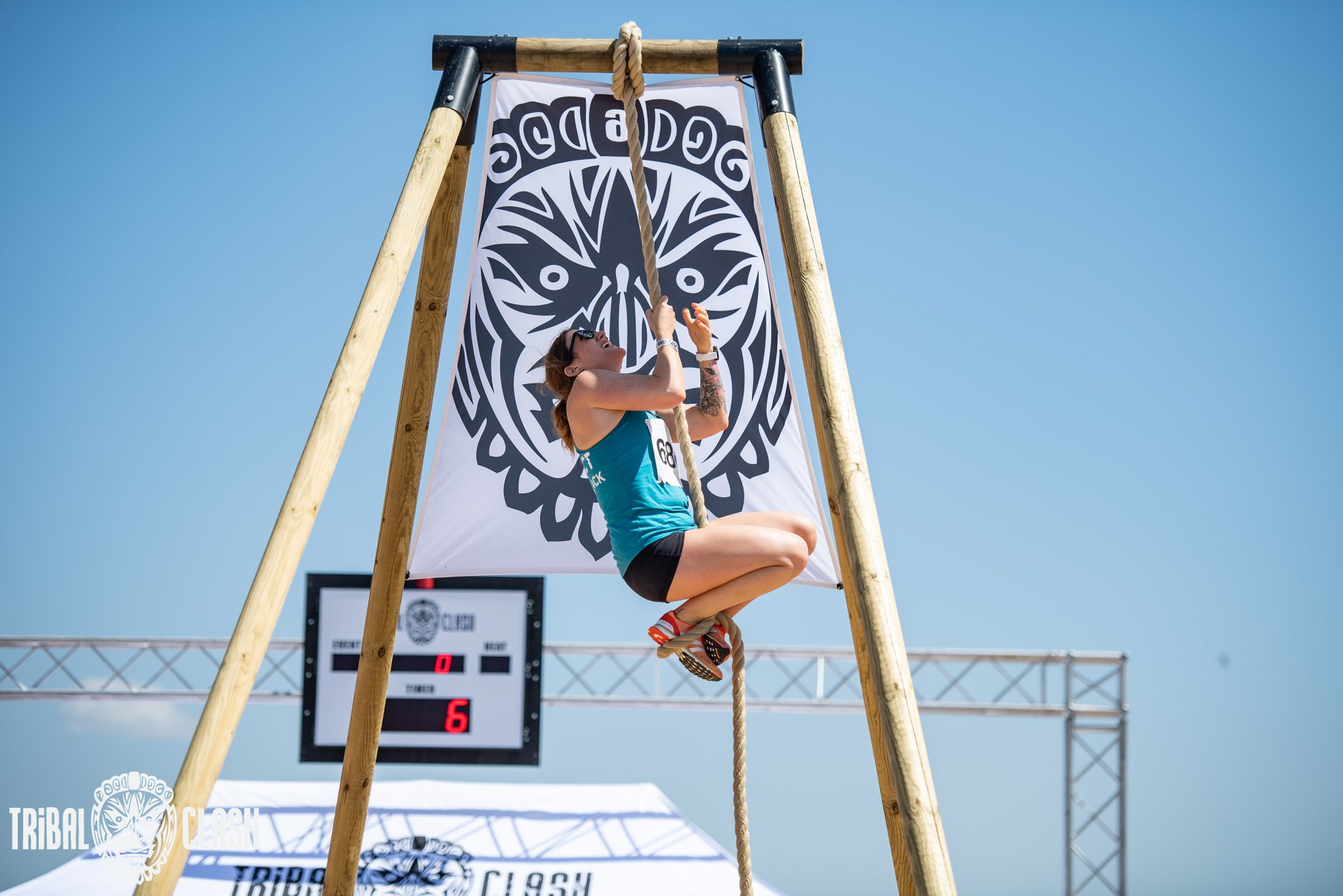 EVENT 5: WATER WORM
For reps
10 log worm thrusters
Worm lunge to shoreline
2 swim laps with a rescue board
log worm lunge back to the lane
AMRAP log worm thrusters in time remaining.
The team starts with chest to sand behind the baseline. On GO the team proceeds to the log worm and completes 10 log worm thrusters. All athletes must reach below parallel at the same time. The log should be transferred to opposite shoulder on each rep. The athletes do not need to lock out overhead. When all the thrusters have been completed, the team lunges the worm to the shoreline. All athletes must have knee to sand at the same time reaching full extension at the top of the lunge. No shuffling is allowed, this will result in a back lunge penalty. At the shoreline the last team member must cross the line of the barriers, the team picks up a rescue board and proceeds to swim a marked course around a buoy. All athletes must be in contact with the board at all times. After the first swim lap the board comes back to the lane on the shore.  The board must touch the sand and all athletes stood with hands in air. The team proceeds onto a second swim lap around the buoy. Once the lap has been completed and the board is back in its starting position, the team picks up the log worm again and lunges it back to the lane. The team then completes as many log worm thrusters as possible in time remaining.
Time cap: 16 minutes
EVENT 6: THE SANDBAG SHIFT
For reps
The team starts with chest to sand behind the baseline. Behind the baseline they have one truck tyre and five (5) sandbags weighing 60kg. On the lane they have two up and over beams. On GO the team starts to transport the objects from one end of the lane to the other. The athletes, tyre and sandbags must go over the beams. The athletes can be assisted. Once the truck tyre has been lifted off the floor, it must not touch the ground between the two base lines. The team can have any number of athletes carrying the objects. All objects must be carried and not dragged.  Any infringement will equal a 10 second time penalty.  The judges will keep you behind the baseline for the time of any penalties incurred before the objects can be moved back down the lane. The team scores one rep per object + athlete behind the baseline. The tyre must be on the floor first and the sand bags on top for the reps to count.
Time cap: 12 minutes