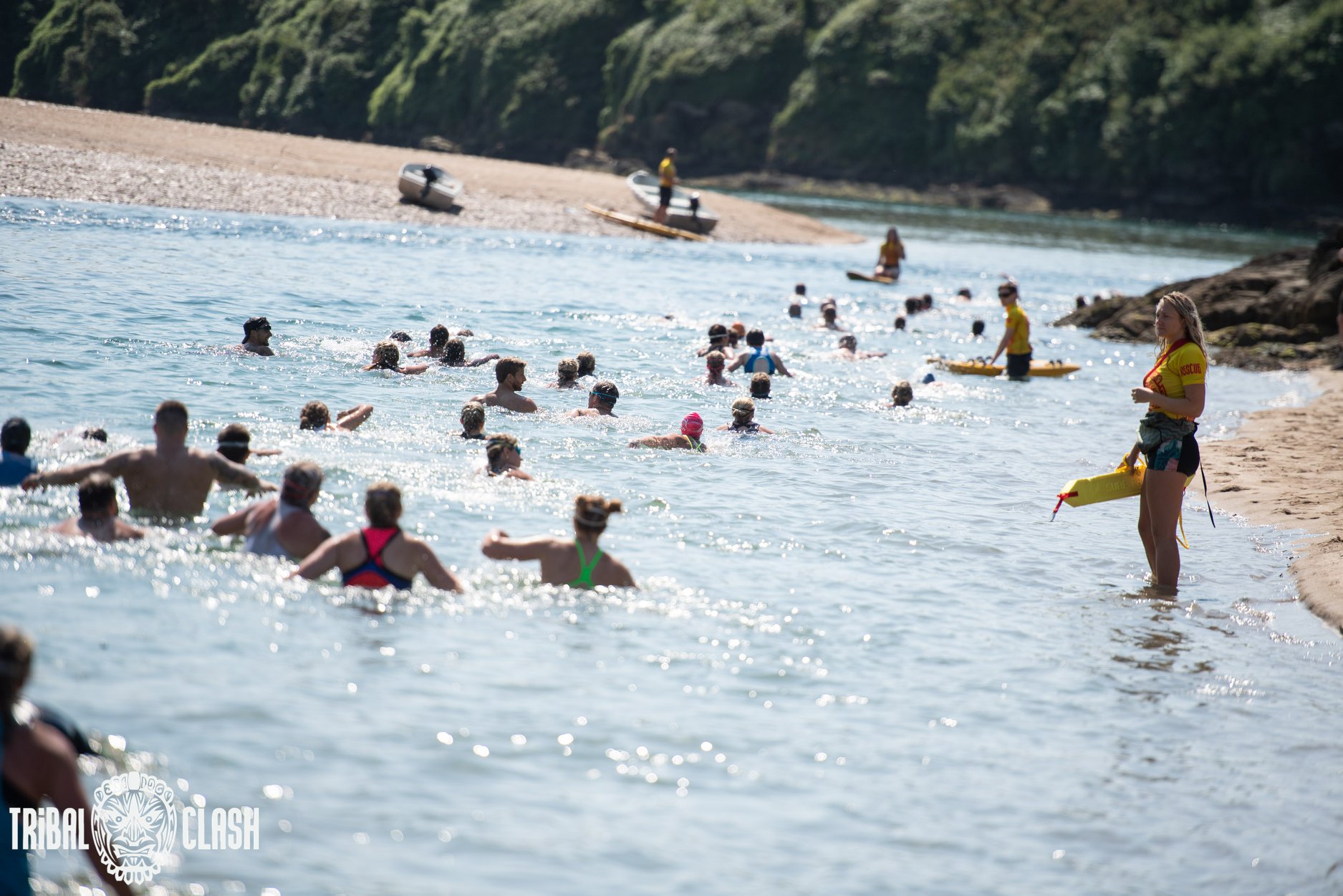 Teams always ask us what the best way is to prepare for a Tribal Clash competition. We don't publish the workouts until the eve of the competition, it is the way of the Clash. Andrew Barker, our Games Director, programs for the 'tactical athlete': someone who is capable and ready for anything, someone who can perform even when the weather is against them, whether it is a short 3 minute sprint, or a 45-minute slogger
1. Step outside the gym and train outdoors. The whole of the competition takes place in the open air, either on the beach itself or in the water so the best way to prepare for this is to get outside with your teammates. Get used to adverse weather, and get used to being too cold or too hot. 
2. Competition programming is based on the assumption that athletes can run 5K in under 24 minutes so make this your target. Hate running? It's a basic locomotive skill, and we test it every year. At a basic level, running does not require a high level of acquired skill, so getting better at it is a result of simply running more. If you are unwilling to put the work in, be prepared to be a bit uncomfortable during the competition weekend!
3. Get comfortable in the water. Tribal Clash takes place on a beach, by the sea, and every competition always includes water-based workouts so get in the sea or in the pool. We can't confirm until the competition weekend whether all team members will have to swim or how far a swim might be so best to come prepared for any eventuality. We expect every athlete that signs up to compete in Tribal Clash to be able to swim, not necessarily at competitive level, but to be safe and comfortable in open water. 
4. Practise synchro movements. Working as a well oiled machine is key at Tribal Clash so test your communication and get used to staying perfectly in time with each other. Squats, lunges, burpees and wall balls are all great movements to test your synchronicity. Video yourself – you may think you are in sync but your judge may see something else. 
5. Push your teammates to their limits. Programme a really tough and long workout to find out where their breaking point is, learn what the warning signs are and make sure you know the best way to encourage them to keep going. Learn how your team communicates when one or more team mates are at breaking point. Practice communicating breaks and rests. 
6. Train with odd objects such as sandbags, atlas stones, truck tyres and whatever else you have to hand. There are no barbells at Tribal Clash so get used to handling awkward pieces of equipment. We deliberately use equipment that is awkward and uncomfortable, and that gives you scrapes and bruises. There are no padded and weight-calibrated worms at Tribal Clash.
7. Take inspiration from workouts that were included in previous competitions, these can be found in the 'Archive' section of our website or by looking on our Facebook page.
8. Check out our blog where you will find some suggested workouts which can be used as part of your training – these include an AMRAP of synchro pullups and wall balls, a combination of shoulder to overhead reps with a truck tyre and synchro burpees, and an old favourite – Tribal Karen. This is a classic test to see who will be the first to break – complete 150 synchro wall ball reps as a team of 6; can you decide a rep scheme and stick to it or will you have to adapt on the fly?!
We want to see your team training, so make sure you tag @tribalclash in your Instagram photos and videos!