Crossfit affiliates, rogue boxes, garage gyms, fire stations, military companies……The world is now covered in thousands of tight-knit and highly motivated fitness families. These communities are united by a desire to be the best that they can be, but each is uniquely different in culture, ethos, identity and approach. Tribal Clash provides both a meeting ground for these tribes to come together to celebrate their similarities as well as a stage on which to demonstrate that which sets them apart.
TRIBAL CLASH PUTS THE FUN IN FUNCTIONAL FITNESS
The competition is designed to discover the most capable teams on planet earth. Or in other words, the group of people who have the greatest ability to get stuff done regardless of the type of task, its duration or complexity. The events could involve anything, but typically include:  lifting, shifting (carrying, dragging, pulling), locomoting (running, swimming,) or climbing.  The team that can do most work in the shortest time will score the highest. But more importantly, because of the way we program all teams will have a great time regardless of how they score.
TRIBAL CLASH IS THE ULTIMATE TEST OF TEAM WORK
Tribal clash events are specifically designed to reward teamwork above all else. Teams are always comprised of six athletes (three men and three women). Individual strengths will not necessarily bring a team up but individual weaknesses will certainly bring a team down. A collection of strong individuals does not necessarily make for a strong team either. If communication, camaraderie or leadership is lacking then the team will not do well regardless of individual capabilities. The best teams are the ones who work together as one well oiled machine and remember to have a good time while they do it.
TRIBAL CLASH IS FOR ANYONE AND EVERYONE
Tribal Clash is for anyone who is passionate about fitness and is proud of the fitness family to which they belong. All athletes will find that they can contribute to the team's performance in a way that is appropriate to their level.  Stronger more experienced teams will be severely tested, weaker less experienced teams will find the events challenging but achievable. Experience counts for a lot at Tribal Clash and older members can contribute greatly to a team, often making exceptional leaders.
Teams compete in a six gruelling events across the course of an action packed weekend before the top teams progress to a nail-biting race-to-the-finish final. The events are highly tactical. Strategy and communication are key to good performance. Teams that are fit and strong will survive. Teams that are fit, strong AND smart will thrive.
THERE IS NOTHING LIKE TRIBAL CLASH
Tribal Clash is an engaging and exciting spectator experience, a unique and innovative marriage of music and muscle, a high intensity, adrenalin-fuelled demonstration of strength, fitness and teamwork. Half naked athletic men and women push themselves to the limits as they tackle unimaginable tasks and complete astounding feats of strength, speed and endurance. All this takes place in a spectacular beach setting to the beat of live music and commentary. A true beach festival of fitness!
PAST
Tribal Clash started from humble beginnings.  The first Tribal Clash was held on Blackpool Sands beach in Devon on the south coast of UK during a hot August weekend in 2013. This first competition had 100 teams of 4 athletes, 2 men and 2 women. Our vision was to create a competition that took the best bits of CrossFit, obstacle racing and endurance racing, and delivered them all in a stunning beachside location. The idea was to bring fitness back to its roots, challenge the athletes with unusual equipment and push them outside of their comfort zone utilising the best that the spectacular Devon coastline had to offer. In a first fitness event of its kind, Tribal Clash created a community festival where tribes camped on the beach, there were DJs and the famous Taiko drummers, and a real beach party vibe. CrossFit Cheltenham took home the Mask and CrossFit Aberdeen was awarded the Tribal Spirit trophy. 
In 2014 the event attracted 144 teams of 4 athletes, who battled on the sand for two hot sunny days flipping logs and tyres, and enduring the infamous 16 minute team log squat workout, the memories of that still make grown men cry. Over 600 people camped on the beach, many tribes travelling from Scotland, and a few teams from outside the UK joined the party. The winners were CrossFit CM2 and Unit6 CrossFit, the home box, was awarded the Tribal Spirit trophy. Just like the year before, the competition ended in a raucous party in the giant tipi that went on until the early hours in the morning. 
In 2015 the competition grew to 144 teams of six athletes, and this time the teams got to play with several new pieces of equipment designed and manufactured at Tribal HQ. The events included the 'Anaconda' – lunging and squatting with a log worm as a team, and 'Devil's Causeway' where the athletes had to negotiate a balance beam – a real curveball which proved difficult an insurmountable challenge to some athletes. 700 people camped on the beach, the sun was shining, and the atmosphere was electric. CrossFit Aberdeen were crowned the Tribal Clash champions, and CrossFit 252 were awarded the Tribal Spirit trophy. 
Tribal Clash 2016 grew to 168 teams of 6, and after riding our luck with the weather with three hot sunny events in previous years, Mother Nature finally showed her true colours. Gale force winds and rain challenged the athletes mentally as well as physically, our production team worked around the clock battling the elements. Still, rain didn't dampen the Tribal spirit, teams took on Tribal Fran and squatted with a slosh pipe – a new piece of equipment which demonstrated how important good teamwork and communication is at Tribal Clash. ADAMED Team Poland were Tribal Clash champions, and Reebok CrossFit 33100 from Tampere, Finland was awarded the Tribal Spirit Trophy. 
In 2017 we staged our first international competition, on Praia do Almargem in Algarve, Southern Portugal. This was a huge logistical and operational challenge for the team, but they rose to the challenge and delivered an epic weekend where teams from Spain, Portugal, Belgium, Finland and UK battled with familiar Tribal Clash kit. We did actually build a Tribal Clash arena on a beach on the other side of Europe!
The UK competition moved from its birthplace Blackpool Sands to a new beach, Bantham, in Devon. Operationally this was a difficult beach to program on because of its huge tidal range, and a host of other quirks and restrictions, but our team worked around the clock to deliver a superb competition which included some old favourites (atlas stones) and new equipment (a 240kg sand worm). We built an obstacle course on the beach and staged the world's biggest team paddleboard race with 160 teams in 10 heats racing on giant Red Paddle Co Ride XL SUPs. CrossFit Deviant Black won the Mask after a hardcore Sunday with torrential rain, which added a new challenge into the competition.
FUTURE
With the support and feedback of the British fitness community, the winning Tribal Clash format has been honed and polished in the UK over a five year period. By 2017 Tribal Clash was ripe and ready for replication around the world. Global roll out plans started in April 2017 with the launch of Tribal Clash Portugal. In 2019 we are taking Tribal Clash to Australia, USA and South Africa, and in 2020 more international events are in the pipeline.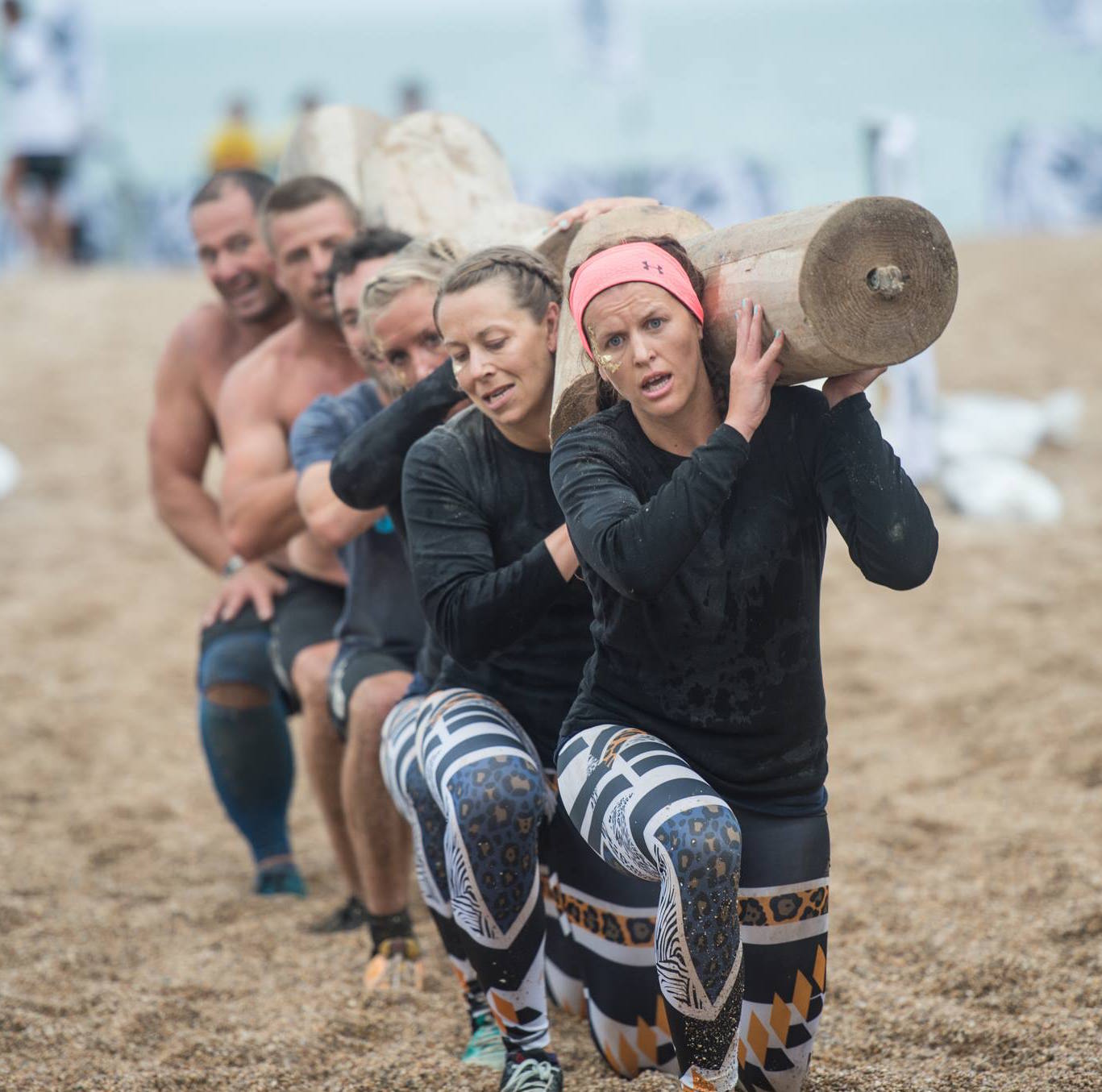 RACHEL ROBERTS
Marketing & Sales Manager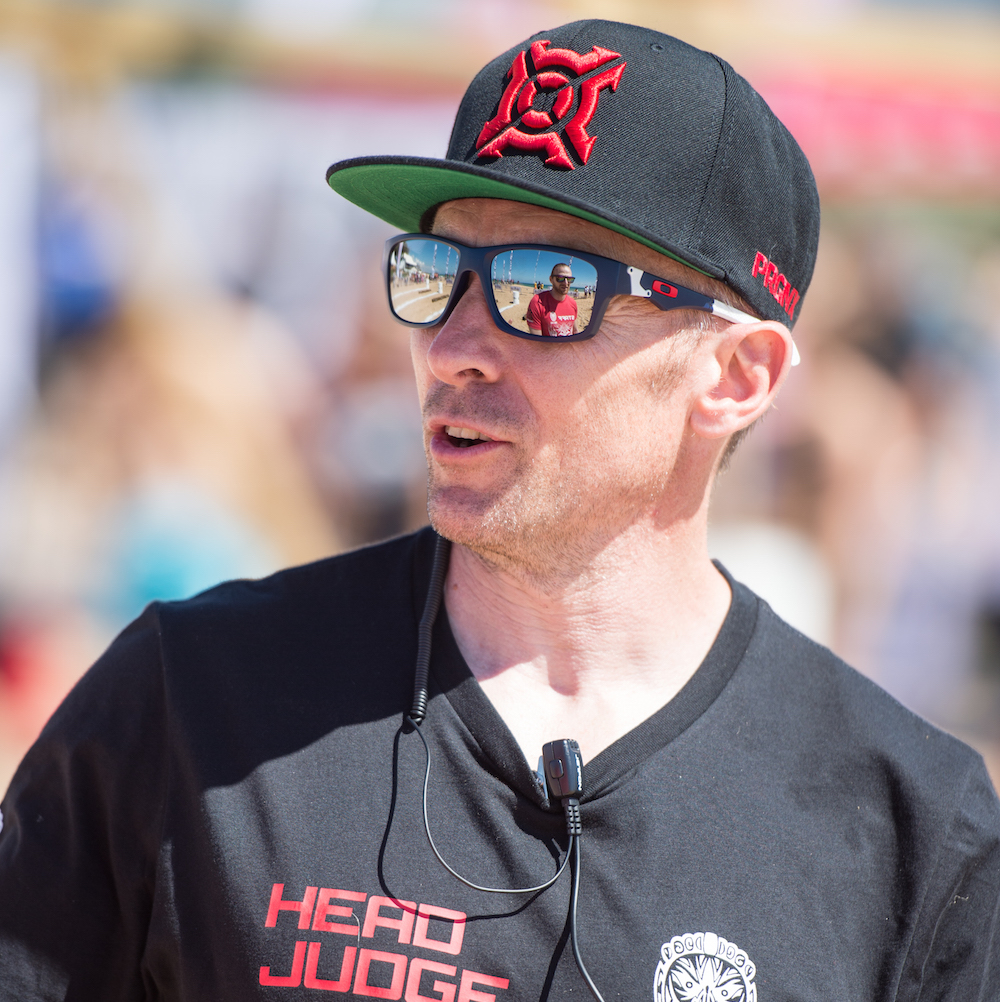 DAVID MARTIN
Production & Safety Manager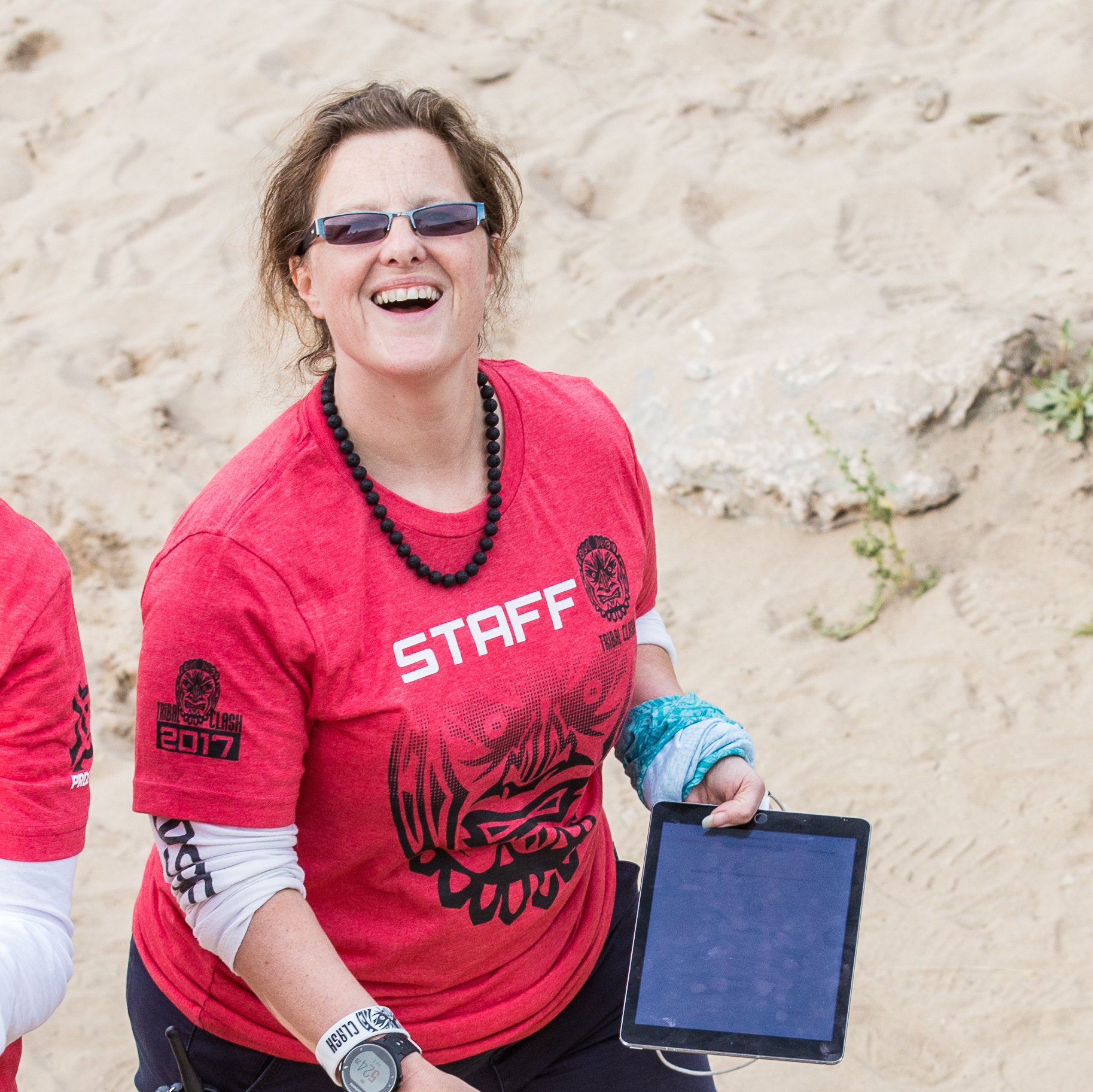 JAYNE CLEMENS
Head of Scoring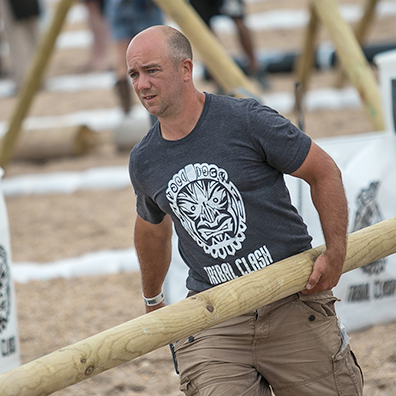 GARY JONES
Operations Manager / Logistics & Staging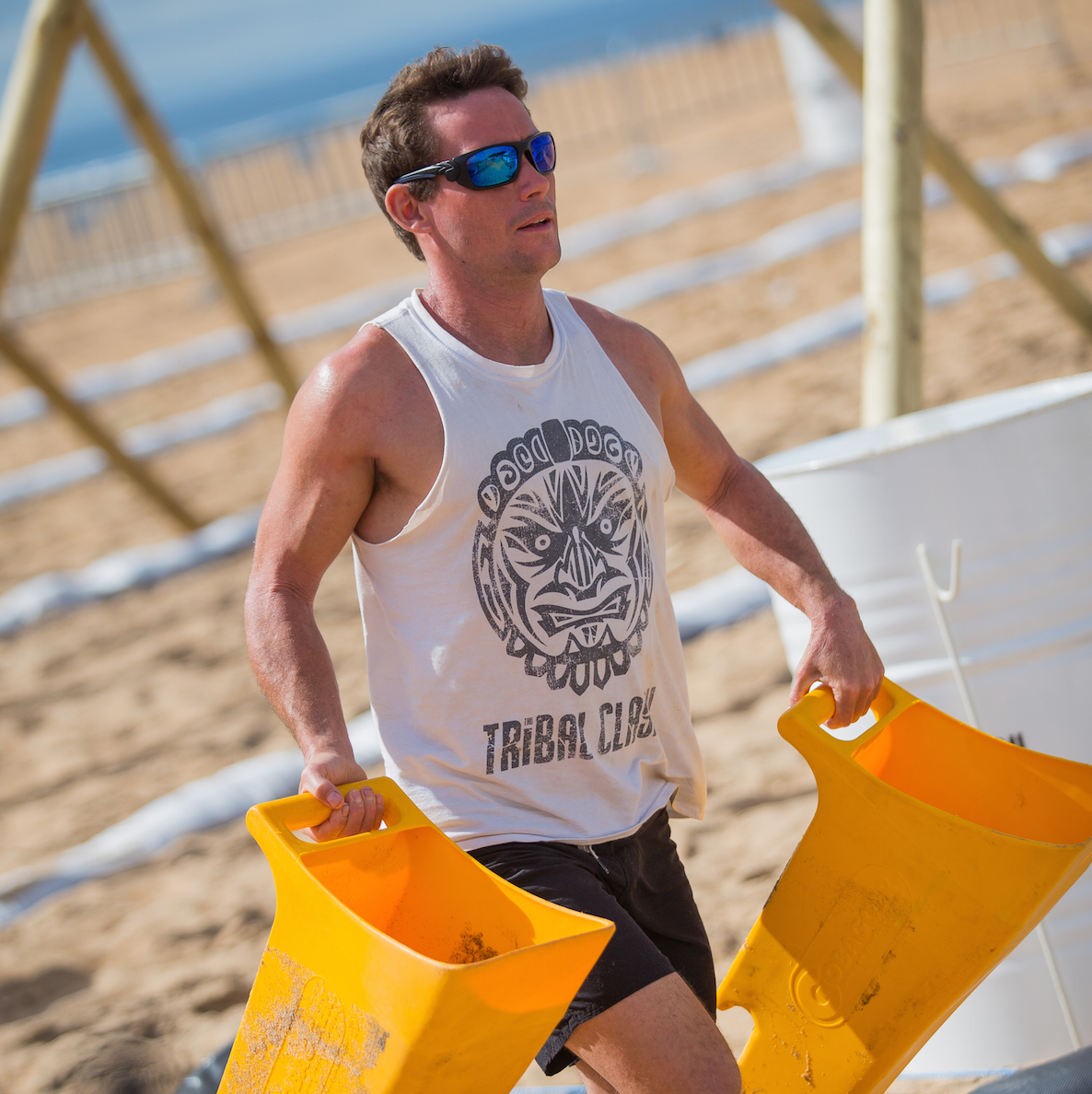 TOM TROUT
Operations Manager / Logistics & Staging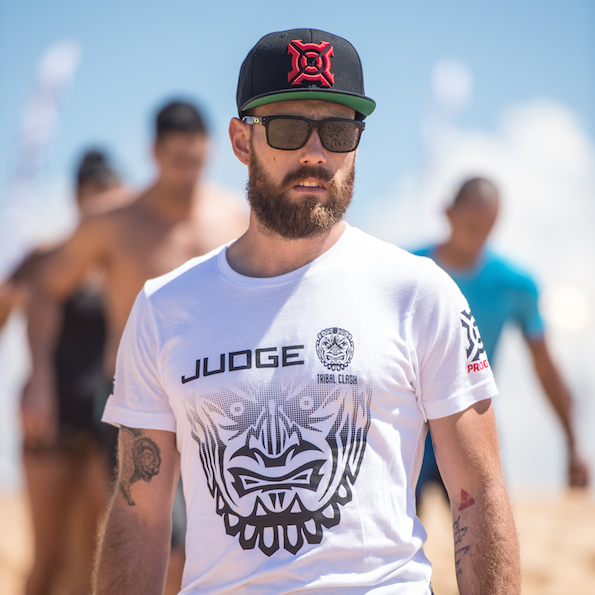 CLAUDIO MORAIS
Operations Manager / Portugal